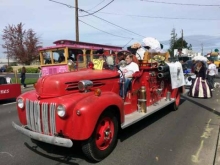 Apr 15 2019 - 7:56am, Ben Truwe
Thanks to SOHS's intrepid, persistent volunteers, the Amphibious Fire Engine was in the Pear Blossom Parade in 2019. Here is their story, as told by Ben Truwe (photos provided by Doug McGeary):
Our grand plan for participation in this year's parade was to meet at Hanley farm around 9:00 Saturday morning. Simple. But when we tried it we all found our way blocked by police and hundreds of Pear Blossom Run participants.