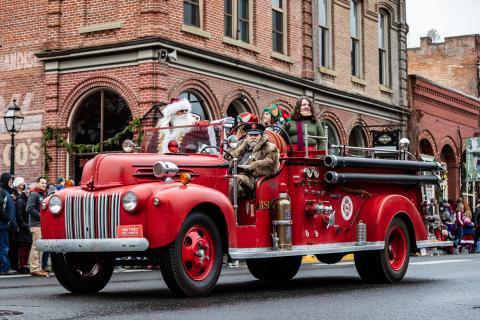 Jan 12 2022 - 5:49am, Ben Truwe
A few months ago, organizers at Jacksonville e-mailed to ask if the Amphibious Fire Engine could perform as Santa Claus' sleigh in their Christmas parade. This makes two years in a row. It could become a tradition.
            The Jacksonville Christmas parade kicks off the shopping season each first Saturday in December, and it's the easiest event we do. On most events we like to have a follow vehicle in case anything goes wrong, but since Jacksonville is less than two miles from Hanley Farm, one person can feel fairly confident driving to town, doing the parade and taking her home. Happily, Mike Trump offered to follow in his car. Most of the other volunteers were unavailable because they're members of the Model A club and busy driving their Fords in the parade.
            Mike and I did the usual routine the day before the parade, checking the engine fluids and battery and waking the old girl up to make sure she'll start after a few months asleep. As usual, she started right up.
            In October we'd had a little work party to remove the oak seat from the bed of the fire engine. Jim Martin, Bill Mendels, Mike Trump and I stored it in a farm outbuilding far from the dust and rodents in the barn. If the world returns to normal we can put it back, but right now scheduling people to ride in events is a problem. This is complicated by our insurance carrier's decision that everyone on the vehicle has to be strapped down while traveling two miles an hour in a parade. People riding on other organizations' parade floats while sitting on folding chairs seem to survive the experience, but it's apparently a risk we can't take.
            While moving the seat we learned that storing things on a fire engine in a barn is not a good idea, unless you're a rodent. Anything under the seat that could be chewed up to make a warm nest had been chewed. Happily, we'd stored our engine manuals and parts books in plastic tubs, so everything irreplaceable was spared.
            But back to the parade. Determining that unlike last year I would be warm while driving in an open cab on a frosty December morning, I decided to wear my 1920s raccoon coat. (This makes the second consecutive blog entry with a raccoon reference.) And I was toasty.
            After the parade we parked on Third Street opposite the Beekman Bank to drop Santa off and let kids climb on the fire engine and work the horn and siren. This time I think one of the kids used the turn signal unit to pull herself into the cab. It broke off in her hand, and she held it up with a "What do I do with this?" expression. Good question. It seems all brands of turn signal switches are made with a pot-metal case that's vulnerable to abuse. Mike has an idea of how to attach it more securely, but we may just have to replace it and consider them expendable.